Moose watching in Greenville Maine by land or water
1-2 people $200
3 people $225
4 people $250
5 people $275 Max
Trips are private and last 4 hours
All trips are custom and very adjustable. Coffee, tea, or hot chocolate can be provided upon request.
THE MOOSE AND WILDLIFE SAFARI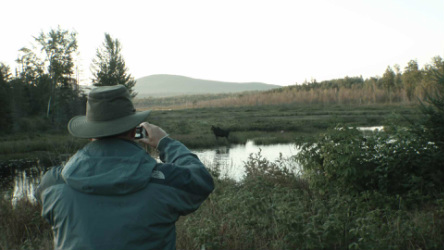 The Maine moose, is one of the most popular attractions to the Moosehead Lake region. All summer, moose spend most of their time eating one of their favorite foods, aquatic plants. The safari will take you to the remote ponds and trails where peacefulness and tranquility will make you truely relaxed.
Morning and evening is the magical time of the day to be on the water to see beaver or otter swimming, hear the call of the loon or splash of a native brook trout. Approaching a feeding moose by gliding soundlessly across a glassy pond is most rememberable wilderness experieces you can have.
---
SEARCH FOR MOOSE BY WATER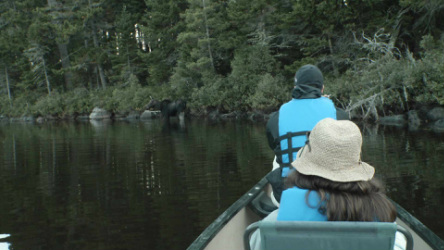 Moose are very comfortable in the water and typically at ease while feeding give us great viewing opportunities. The canoe(s) used are extremly stable with one capable of accommodating three adults and guide. All you need to do is sit quietly, take pictures, and enjoy the breathtaking scenery. No canoeing experience necessary. All trips are custom and very adjustable. If we choose we may spend up to two hours on one body of water or visit numerous moose hangout depending on your preferences and the cooperation of the moose and the weather.
---
SEARCH FOR MOOSE BY LAND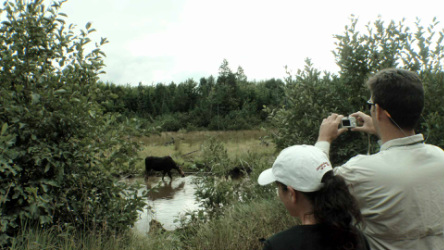 The land trip is for those who would rather keep their feet on the ground and not interested in braving the elements. All trips are custom and can be catered to your needs. During our adventure we commonly find moose while driving to a number of remote ponds, visiting Ripogenous Dams and the violent waters of the Crib Work on West Branch of the Penobscot River, or paying our respects at the B-52 crash site and our fallen members of the armed services.
---
BIG BULLS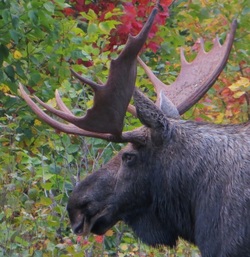 The middle of September through October is the breeding season for moose and is the best opportunity for photographing these beautiful bulls. The weather is cool, the bugs gone, and the trees are showing off thier fall colors. These boys have been growing their antlers since early spring and now is the time the show them off. I can lure these animals closer by using calls, scent, and visual clues. This is the best time of year for both professional and novice photographers who are searching for your big bull shot.
---
WHAT TO BRING:
FOOTWEAR: There is usally no reason to get your feet wet, but sturdy footwear is recommend because just may need to walk on uneven, rocky, muddy, or slippery terrain depending on weather and location.
CLOTHING: Light natural colors (browns, kaki, greens), avoid bright, loud colors; we are in essence hunting these animal and the better we blend in the more relaxed the animals will stay. Long sleeve shirts and pants will allow you to be more comforable if the bugs are out or the temperature drops. Dress warmer than you think you need, you can alway take stuff off. A brimmed hat or sunglass can be a must, remember this is morning or evening so the sun will be closer to the horizen than overhead.
RAIN GEAR: Trips are more enjoyable if you are comfortable. The old saying in Maine is that if you don't like the weather wait a minute. This is true, driving just 20-30 miles north or south can put you in different weather. The weather reports are also very inaccurate in our area.
CAMERA: Check your battery level or bring extra batteries or film. Nothing is worse than having a chance at the picture of a lifetime and a dead camera.
HAIR SPRAY, COLOGNE AND PERFUME: Not recommended, most animals use their nose more than their eyes and an unnatural smell can be a costly give-a-way. During June and July you will also be a bug magnet.