MUSH YOUR OWN TEAM
---
"Kennel Tour"
The "Kennel Tour" would begin upon your arrival at Lone Wolf Kennel. We will be set up and finishing the preparation of the dogs for the "Basket Ride". You will have an opportunity to help harness the dogs and even boot if they would like a hands on experience. The "Basket Ride" will be one person at a time while the rest of the party is walked up into the dog yard to meet our racing team, getting back in time to greet the returning team. The "Basket Ride" lasts about 20 minutes and travels 3 miles on trails we keep groomed. Upon returning the dogs will be offered water and maybe a snack, everyone is unhooked, sled turned around, then hooked back up. It takes about 20 minutes to be ready for the next guest's "Basket Ride". While they are gone I will bring the remaining guest to meet the racing team also until all the rides are completed.
After the rides have been completed you will once again be escorted into the dog yard this time to meet the younger dogs and puppies if we have any at that time. All our dogs are friendly and trips like this help make that so. Price is $75 per person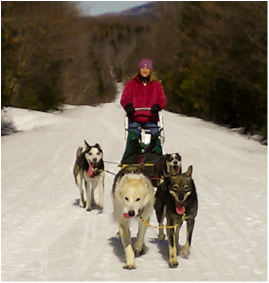 Custom Trips are for larger parties, sunrise, sunset, moonlit, or overnight trips please call for a quote.

NECESSARY INFORMATION:Please dress appropriate in layers for the day; Winter Boots, Wool or Synthetic Socks,
Gloves or Mittens, Chemical Hand and Foot warmers, Warm Hat. Face Protection, Winter Jacket, Insulated Pants, and Sunglasses are
recommended.

PLEASE BE PUNCTUAL for respect of our family and the well-being of the DOGS.

RESERVATIONS should be made early as possible to insure availability. A 50% deposit is advised to reserve your trip.PAYMENT,
we accept cash and personal checks made out to Lone Wolf Guiding Services.We also offer a 100%REFUND for trips canceled 72 hours in
advance.


---