Master Maine Guide Mark Patterson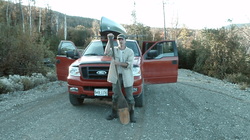 Growing up in the small town of Abbot Village, located 20 miles south of Greenville and the Moosehead Lake Region, the outdoors has always been in my blood. Exploring, hunting, and fishing weren't only what you did when you had a day off it is also what you did on your way to and from school. The art of hunting, fishing and navigating in the great outdoors has been bestowed upon me from my father, my grandfathers and generations of outdoorsmen. Graduating from Piscataquis Community High School in Guilford, Maine in 1991; I followed a number of different career paths for a couple of years, none of which were completely satisfying. Eventually I enrolled with the University of Maine in Machias to follow a career in Parks and recreation. During my first semester, two of my instructors Rick Scribner and Bruce Hodgdon, both Master Guides taught me many aspects of traditional guiding and whitewater canoeing. In the spring of 1997 I tested and received my Recreational Guide License, and by 2000 I had also tested and received my licenses in Hunting and Fishing giving me the status of Master Maine Guide. I spent three years working for Greenland Point Center in Princeton, Maine while attending college, fine tuning my guiding by working with children and helping them understand wildlife and the outdoors. During this time I have been a rifle range officer, taught Hunter Safety and Hooked of Fishing programs, lead wilderness adventure programs and outdoor alternative programs for trouble boys. This is where I got my taste for guiding. I was taught to guide from traditional Master Maine Guides and the experiences of working with them.
Since graduating in 2000 with a B.S. in Recreational Management I have led extended trips down the St. John River, Allagash Wilderness Waterway, West Branch of the Penobscot River, St. Croix River, Machias River and the West Outlet of Moosehead Lake. Hiking trips have led me through Gulf Hagas, around numerous waterfalls, and over mountains including the Spencer Mountains, Mt. Kineo, Mt. Katahdin and Borestone Mountain. Winter time is spent leading snowmobiling, snowshoeing, and ice fishing. Personally I have led thousands of people to photograph and view moose, loons and other wildlife priding myself on keeping a safe and informative trip. My favorite trips are the early morning paddling out to watching and photograph moose which I have been doing full time from ice out to ice in for most of the last 10 years. Watching and studying these amazing animals has given me great insight on why they do what they do, where they will be, and when they will be there. I have easily led over a 1000 successful trips and plan on a couple 1000 more before I retire.
---
REGISTERED MAINE GUIDE ASHLEY SIMPSON PATTERSON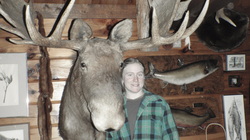 Born in Attleboro, Mass. at age one I moved to Florida with my mother for my next ten years. At age 11 we moved to Maine and raised a small farm where I recreationally started training sled dogs. Finishing high school I started working making dog sledding equipment and handling for Mountain Ridge Kennel in Shirley, Maine. After racing the Can-Am 60 and watching all the distance mushers that I realized this is what I wanted to do. At age 18 I had the opportunity to run the Can-Am 250 and was determined just to finish the race, but ended up placing 4th that year and again the following year. The dogs that finished those races are the based bloodlines we chose to build our kennel from: Cotter, Brooks, Swingley, and Mackey. During the process of building a house and kennel, I met my husband, Mark, which made it all come together. We are both Registered Maine Guides, providing moose and wildlife interpretation trips, canoeing, fly fishing, hiking, and of course dog sled tours. We are currently training 32 race dogs consisting of 12 yearlings from our now 48 dog kennel. My husband and I are currently working on the steps to make it to the Iditarod or Yukon Quest. I would like to thank John Osmond and Amy Dugan for all the years of support and the quality equipment we need to keep the dogs happy and healthy ww
w.mtnridge.com
.
---